Each school in Georgia earns a CCRPI (College and Career Readiness Performance Indicators) score as a part of the Georgia accountability and reporting system. A part of that score or report is the School Climate Star Rating. There are three surveys which contribute to this part of the score; one survey each for students grades 3-5, school personnel, and parents.
The student survey is called the Georgia Student Health Survey 2.0. All students in grades 3 - 5 will complete this survey in the computer lab unless a note is sent from parents wishing to opt out of the survey.
The parent survey is also an online survey which contains 24 questions. A Spanish version of the parent survey will be available soon. Parents will be able to complete the survey using their personal computers, smartphones or iPads. Parents that do not have access to the Internet,may contact the school office to schedule a time to complete the Georgia Parent Survey at school. We would like good participation since the data will be used to calculate the School Climate Star Rating . Survey responses are anonymous and will be submitted directly to the Georgia Department of Education for analysis. Data results from the Georgia Parent Survey will not be available to the public and will not be posted online. The URL address for the Georgia Parent Survey is posted below.
Royston Elementary School Mission and Belief Statements: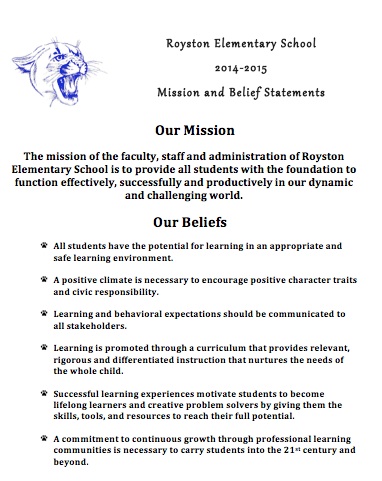 FOLLOW US ON TWITTER @RESFCSS
Royston Elementary Facebook
---
BYOD Parent meeting postponed - notice of future meeting will be posted later.
November 20 - 4th grade field trip to High Museum
November 20 - CHAMPS graduation
November 20 - Boy Scout registration
November 20 - 3:30 to 5:30 PTO will be sponsoring a Paparazzi $5.00 Jewelry Party (Children's jewelry $1.00) in the media center. Students, staff, and parents are invited to attend!
November 24 - 28 Thanksgiving Break
December 1 - 5 Santa Shop
December 9 - Christmas Muscial
December 11 - 3rd grade field trip to Fox Theatre
December 12 - 1st grade field trip to Elbert Theatre
December 16 - RES Family Christmas Celebration, Christmas parties
---
Help our school earn FREE educational equipment and supplies from BI-LO! It's so easy! All you have to do is enroll your BONUSCARD to our school code and shop at BI-LO as usual.
Enrollment only takes a few minutes and your support will help make a difference for our students and their education! Click here to connect to the sign up page so you can enroll your BONUSCARD and link it to our school's code: 53885

Thanks for your support!!